DAYLIGHT HANOI MOTORBIKE TOUR FOR FOODS AND SIGHTSEEINGS
Tour starts: 8:00am
8.5 hours total: 8.00am to 16.30pm (Hotel pick up and drop off time)
Type: Group Tour (5 – 10 people)
Corporate and Medium to Large Groups (up to 10 people maximum)
The Fabulous Foods:
The food of northern Vietnam is famous throughout the world. Hanoi is the heart of this gastronomic culture and with Vietnam Motorbike Tours you will experience a large range of these foods over the course of the tour. Whether it is hidden Street Food Stalls, Small Local Restaurants or a Massive Bia Hoi Restaurant with a view, our tour will find the perfect food scene to satisfy your gastronomic desire.
Come with an empty belly and we will send you home with a smile on your dial.
For the more curious and adventurous food lover, ask your guide about some of the foods only the locals eat, you will be surprised and intrigued at what you can find to eat on the streets of Vietnam's Capital City.
The Amazing Sights:
From the rich history and charm of the Old Quarter and Ho Chi Minh Mausoleum to the relaxed atmosphere around Lake Tay Ho you will see all parts of Hanoi in the allocated time at a safe, relaxed pace. The tour will give you a wonderful perspective of the city's most popular and historic sights and you will have many of opportunities to get off the motorbike and take lots of photos.
Experience these fabulous tastes and sights and enjoy the streets of Hanoi like a local today.
Detailed Itinerary:
8.00am – Your Tour Guide & Motorbikes will be at disposal to pick you up from your hotel.
8.30am – Meet the group and sit it in a cafe overlooking the Opera House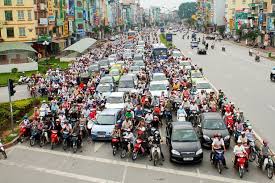 and enjoy  street food in Hanoi . Learn about the history of the Opera House and the surrounding area. You will also have a full safety briefing about the Tour.
8.45am – Tour around Hanoi's Old Quarter and Hoan Kiem Lake. Take a number of short stops to take photos and learn about the history of the Old Quarter.
9.15am – Ride around the city, outside of the Old Quarter, where most tourist don't visit, past some of the majestic, historical buildings including Ho Chi Minh Mausoleum. Stop and the Tour Guide Leader will take you on a foot tour of Ho Chi Minh Mausoleum.
10.30am – Ride to Truc Bach Lake and enjoy Morning Tea by eating a range of small Vietnamese snacks in Ngu Xa Village.
10.50am – Ride your motorbikes around Lake Ho Tay, past some of the most exclusive real estate in Vietnam, with a number short stops for photo opportunities.
12.30am – Stop for Lunch. You will experience lunch at an authentic Vietnamese Bia Hoi Restaurant with a wonderful variety of unlimited food to cater for every taste. You will be amongst the locals doing lunch as they do. Drink unlimited amounts of Cold Local Beer / Cold Soft Drinks or Tea.
13.45pm – We will leave the Bia Hoi Restaurant and find a cafe for a quiet, cool drink.
14.00pm – Keep on riding motorbikes past Red river & Long Bien Bridge to see outside Hanoi's Old Quarter.
16:00 – You will have the option for your Tour Guide to take you to any location in the Old Quarter or to your hotel.
16:30 – End of tour.
Inclusions:
+ Motorbikes
+ Gasoline
+ Protection equipments for your elbows, knees & helmets
+ English speaking guide
+ Entrance fees to indicated sights
+ Lunch at a local restaurant
+ Bottled Water & coffee
+ Free Hotel pick up and drop off
+ Cold Drink / Tea / Coffee at the meeting point
+ Vietnamese Snacks: a range of small Vietnamese snacks including Cold Drink / Tea
+ Guided Group Foot Tour of Ho Chi Minh Mausoleum including entry fee
+ Lunch: unlimited amounts of authentic Vietnamese food from the menu to suit your taste requirements including unlimited drinks (Cold Beer / Cold Soft Drink / Tea). You keep eating and drinking, we will keep serving fabulous food and drinks.
Exclusions:
Gratitude / Tips to Tour Guide
Bottled Wine and Spirits
Any items not mentioned above.
Tour Cost in USD per person applied to groups of (Valid till 30 Sep 2015)

Group

2 Pax
3  – 6 Paxs
7 – 10 Paxs
Single Supplement

Price

0
0
0
0
=> Supplement for the manual bikes of 125cc (Honda Fortune or Yamaha YBR) is US$ 10/bike/day => Supplement for the manual bikes of 150cc (Honda XR or Kawasaki) is US$ 18/bike/day => Supplement for the manual bikes of 250cc (Honda XR or Honda Baja)is US$ 28/bike/day