Amazing Sapa-Sin Ho Scenic Motorcycle Tour Loop will takes you to Sapa and Sin Ho. They are two small towns high up on the slopes of the Hoàng Liên Sơn Range, known in French colonial times as the Tonkinese Alps. Sapa is a famous mountain retreat, enormously popular with Vietnamese and foreign tourists.
Sin Ho, on the other hand, is hardly ever visited by travellers. These two highland towns are connected by lofty mountain passes which afford spectacular views, on a scale not found anywhere else in Vietnam. Rent a motorbike from Sapa and spend a couple of days on the Sapa-Sin Ho Scenic Loop; you'll be rewarded with some of the grandest alpine scenery is Southeast Asia.
Majestic: the Sapa-Sin Ho Loop takes you through some of the grandest landscape in Southeast Asia
GUIDE: SAPA-SIN HO SCENIC LOOP
---
ROAD TRIP DETAILS:
Total Distance: 330km
Duration: 2-4 days
Route: a round-trip between Sapa & Sin Ho on mountain passes [MAP]
Road Conditions: excellent mountain highways & good back-roads, some rough patches
Scenery: the Tonkinese Alps: valleys, mountains & rivers on the roof of Indochina


---
ROAD TRIP CONTENTS:
SECTION 1: Sapa to Lai Chau: 75km
SECTION 2: Lai Chau to Sin Ho: 120km
SECTION 3: Sin Ho to Sapa: 135km


---
ABOUT THIS ROUTE:
I've written this road trip in 3 sections, going anti-clockwise on the loop, but you can drive it in either direction. The total distance is 330km. Note that each section doesn't necessarily correspond to one day on the road: You could ride this loop in 2 days, if you start early and have good weather. However, the roads are steep and windy so progress is slower than in the lowlands, also the scenery is superb so you'll probably want to stop regularly and admire the views. 3 days is perfect.
Weather and time of year are important considerations on this loop. Landslides are a common occurrence after wet weather and can block roads for hours or even days. Unfortunately, there isn't really a dry season in this area and the weather can change very suddenly all year round. The good news is that all of the roads on this loop are either in excellent condition or are in the process of being upgraded. September and October are perhaps the best months to go; the weather is warm and the terraced rice fields are ripe and ready for harvest. Below is my description of the ride, including directions and suggestions of places to stay and eat, as well as my map of the route.
Threading through the mountains between Sapa and Sin Ho in Vietnam's stunning northwest region
---
Sapa-Sin Ho Scenic Loop: Mountain passes in the Tonkinese Alps

View in a LARGER MAP
---
SECTION 1:
Route: Sapa to Lai Chau | Distance: 75km [MAP]
Head west on Road QL4D from the mist-shrouded town of Sapa. The road passes a couple of pretty waterfalls before reaching the top of Tram Ton Pass, Vietnam's highest mountain road at 1,900m (6,230ft), about 15km from Sapa. You'll know when you get here because, if the weather is clear, you'll see the pass snaking around the mountains below you. Even in misty conditions you'll know you've arrived because it's significantly warmer on the pass than in Sapa: the pass is both a climatic divide and a provincial one, marking the border of Lao Cai and Lai Chau provinces.
The spectacular Tram Ton Pass is the highest road in Vietnam: it's a wonderful ride
The impressive, crenelated ridge to the south is Mount Fansipan, Indochina's highest peak at 3,143m (10,312ft). Its looming presence bears down on the pass, casting a cold shadow over the road. Deep down in the valley below indigo rivers forge paths over large boulders. Fansipan is so big that it dominates the scenery all the way to Lai Chau.
The Tram Ton Pass winds down through more pristine alpine scenery to Tam Duong town. It's not much of a place – although its new multi-lane high-street would suggest otherwise – but if you need a rest there are a couple of nhà nghỉ (guest houses) and food stalls along the main road. Continue northwest on Road QL4D for 40km to Lai Chau. If you're visiting during September or October look out for some absurdly pretty valleys of terraced rice fields about 10km before descending into Lai Chau. This is the kind of scenery that brochures promise Sapa will offer, but in reality you have to travel a little further afield to find sights like this:
Scenes like this await you on the road to Lai Chau if you visit in late summer to early autumn
Lai Chau city is a brand new concrete creation in a remote valley surrounded by pyramidal peaks. It consists mostly of grandiose government buildings, wide empty boulevards and depressingly vacant public spaces. On a wet, cold day Lai Chau is a painfully soulless place to be. The scale of infrastructure and architecture are not in proportion to the population or significance of the city; it's like an insecure person at a dinner party shouting loudly to compensate for lack of personality.
However, Lai Chau does make a convenient overnight stop. There are decent-value guest houses (nhà nghỉ) and hotels on the main road. I like Nhà Nghỉ Phương Vy (Tel: 0973 469 342) set a couple blocks back from the main street with very clean rooms for around $10. Look for the bright orange building on the right as you enter town from the east, opposite the bus station. You could even 'splash out' ($30) on Muong Thanh Lai Chau Hotel, which has a large pool. The area around the lake has some good bánh xèo (Vietnamese savoury pancakes) and other food in the late afternoon/evening.
Lai Chau is a fairly soulless town, especially in bad weather, but it'll do for a night
---
SECTION 2:
Route: Lai Chau to Sin Ho | Distance: 120km [MAP]
From Lai Chau continue northwest on Road QL4D toward the town of Phong Tho. Here you can find hotels and food if you feel like a break. After Phong Tho the road turns back on itself, heading south along the Da River valley. The road is in good condition, and it's a quiet, easy stretch through a majestic river valley.
Jaw-dropping: the scenery on the road to Sin Ho is simply staggering
Nam Cay/Chan Nua is less of a town and more of a country junction. There's a guest house (nhà nghỉ) here called Hưng Tâm (Tel: 0948 943 643) if you feel like staying the night, and some local food is also available. At the junction turn left (due east) on Road TL128 for the impossibly scenic and steep ride to Sin Ho. In good weather this route is exceptional. Cutting a path in the mountainside, the single lane road zig-zags up for 40km to the isolated mountaintop town of Sin Ho. The views over ridges, farmland, ethnic minority villages and clear rivers are superb. Every time I ride up here I have a grin on my face the whole way, constantly stopping and gazing in disbelief at the landscape.
Tiny hamlets cling to mountainsides outside Sin Ho, blue ridges disappearing into the distance
Like Sapa, Sin Ho is often engulfed in mist and drizzling rain. The town is a bit scruffy and run-down, and feels very remote. Built on a small plateau at an altitude of over 1,000m (3,300ft) Sin Ho is very cool, especially in the evenings. Ringed by limestone pinnacles and surrounded by minority villages scattered over the mountainside, this town has huge tourist potential, but as yet hardly any travellers make the trip.
Sin Ho is subject to very changeable weather, making the landscape mysterious and brooding
Try to time your visit to catch the Sunday market. Busiest between 8-10am Sin Ho market receives hundreds of minority women dressed in their various colourful clothing. They make the journey by foot (sometimes starting before dawn) to the market in order to buy (not sell) supplies for the week ahead. Unlike Sapa market and the horrendously touristy Bac Ha Market, where minority people are more likely to be seen selling to foreign and Vietnamese tourists, Sin Ho market is the real deal. This means there's no hassling to buy trinkets and garments; most of what's for sale is fresh meat, vegetables, fruit and practical equipment for use in the villages.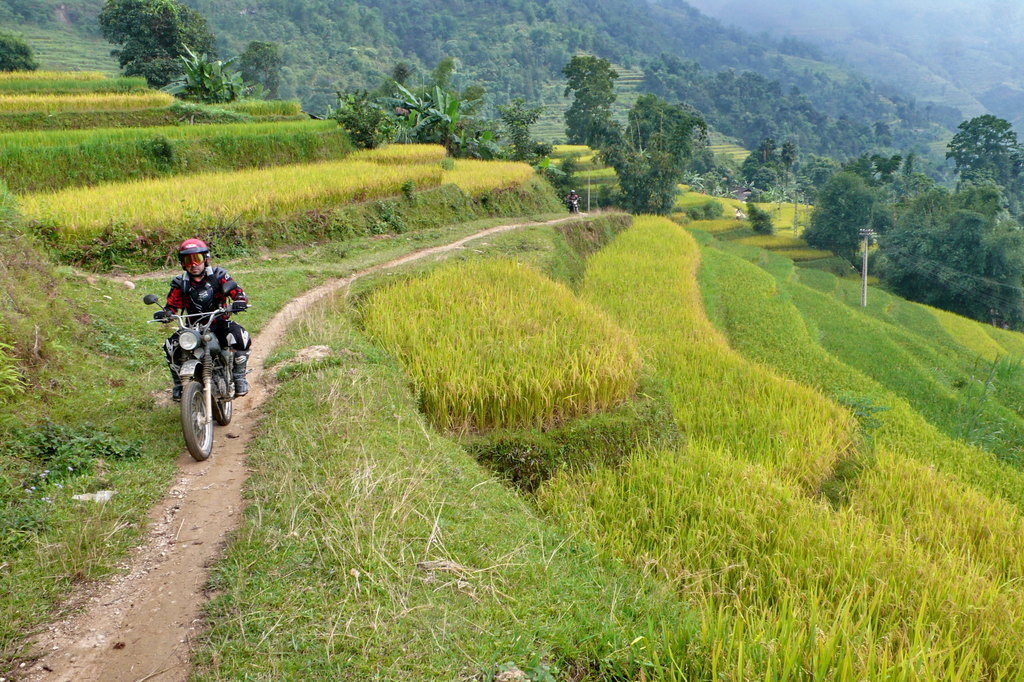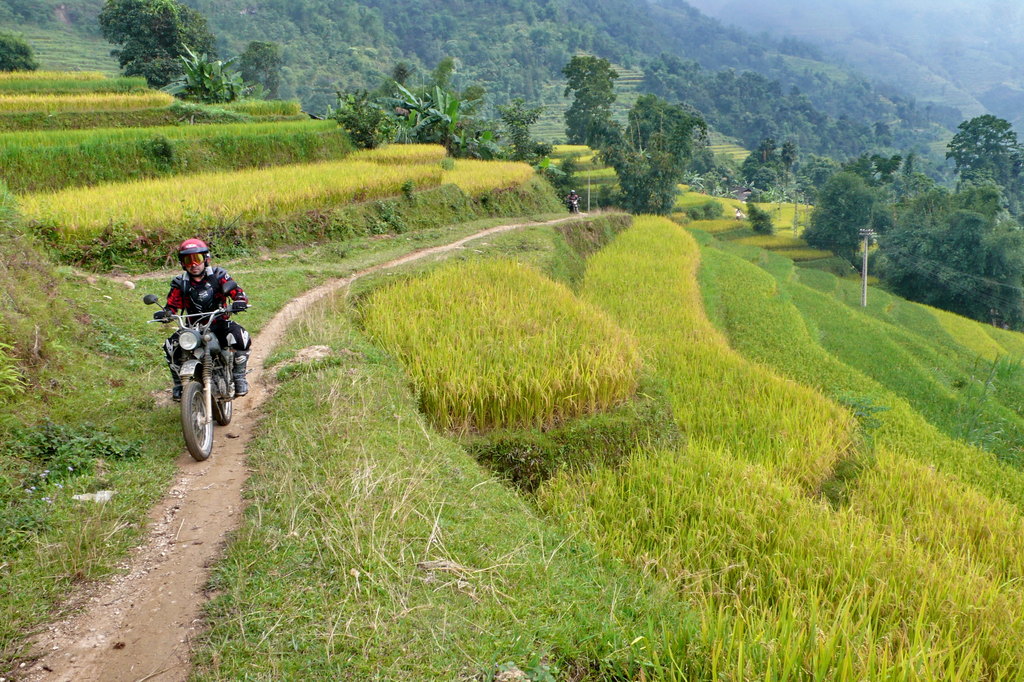 ---
SECTION 3:
Route: Sin Ho to Sapa | Distance: 135km [MAP]
The 60km descent on Road TL128 from Sin Ho back down to Lai Chau is just as beautiful as the ride up. A vast landscape of endless mountains stretches into the distance, dotted with stilt-home villages clustered around clear streams. However, some sections of this road are a little rough due to maintenance work and regular landslides. Take your time and take care on the descent from Sin Ho, especially in wet or damp conditions. At Lai Chau the pass rejoins Road QL4D from where you turn right (due east) and retrace your route back to Sapa via the Tram Ton Pass.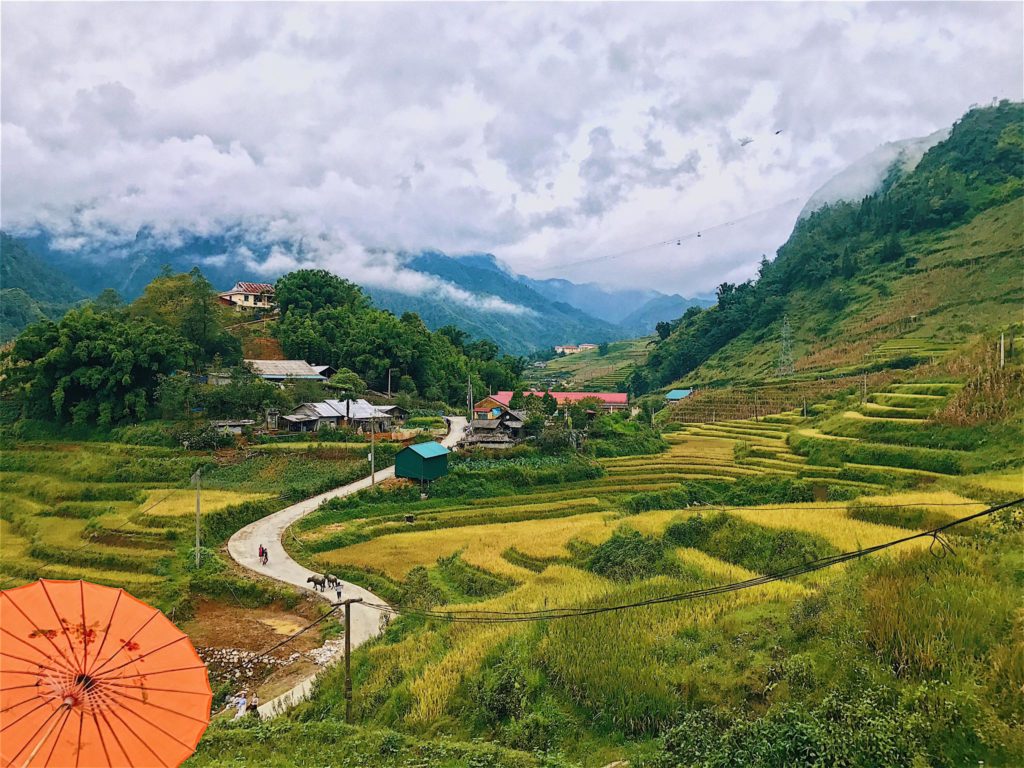 More wonderful and expansive views on the pass down from Sin Ho to Lai Chau