LUNG CU FLAG TOWER

October 23, 2014
By Ha Nguyen
0 comments
Location: At 1,700m above the sea level, in the peak of Rong (Dragon) Mountain, Lung Cu Commune, Dong Van District, about 20km from Dong Van Town.
Characteristics: This is the north pole of Viet Nam.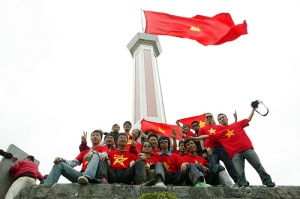 (TITC) – The way to the flag tower inludes 283 rock steps. The flag tower is 33.15m in height; 3.8m in diameter; the tower body is decorated relief of Dong Son bronze drum surface; the tower sole is stuck relieves describing the daily life of ethnic minority people in the karst plateau. Plug in the 12.9m flagstaff is a national flag with an area of 54m², representing for 54 ethnic groups of Viet Nam. At the foot tower, there is a commemorative house, where displays production tools, costumes and cultural products of the ethnic groups in Ha Giang.
From Lung Cu Flag Tower, tourists can view a wide border area of Viet Nam, there are Nho Que River winding through the high mountain ranges, the terraced fields stretching along the mountainsides, the villages of Mong, Lo Lo, Tay, Pu Peo…