LANG CO BEACH

November 28, 2014
By admin
0 comments
Lang Co is an ideal place for beach lovers. Situated on the central coast of Vietnam with many famous beautiful beaches, Lang Co with its gradually slopping, white sand, blue sea, and the average temperature of 25oC in the summer, is an attractive destination for both domestic and international tourists.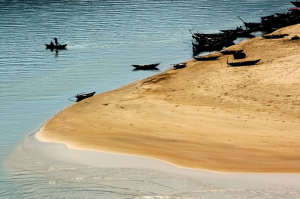 With attractive natural landscape, lies on the most beautiful curve of the country, Lang Co has almost everything that the nature can offer: green mountains and tropical forests, smooth white sand, full of sunshine and cool, blue and clear sea as crystal. It is the 3rd bay of Viet Nam, after Ha Long and Nha Trang named in the list of 30 most beautiful bays in the world.
So stunning, in the Nguyen Dynasty, the Royal Step-over Palace named Tinh Viem (abating the hot weather) had been built here for the king's family members. The French also left their traces here, related to the name of this land. Lang Co, it is probably derived from "Lang Co" (literally means Stork Village) or L 'An Cu (An Cu – Settle down) – its original names when the French pronounced as Lang Co. Nowadays, many modern resorts has been going to build here.
It seems like nobody can resist a nature beauty like Lang Co town. This small and peaceful town will give you the most relaxing time and many games at the beach. In addition, you will have good time to enjoy the seafood with various kinds of shrimps, lobster, sea shrimp, crab, butter-fish, mackerel fish, oysters… and not far from the beach are some attractions such as Chan May scenery, Lang Co fishing Village.
Located on the "Central Heritage Road", Lang Co is very close to other famous attractions such as the Imperial City of Hue, Hoi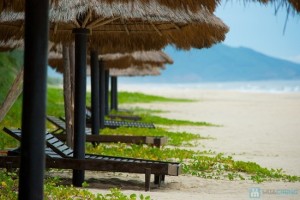 An Ancient Town, Son Tra Peninsula where the famous Son Tra Natural Reserve and beautiful beaches located, and so many more. The beauty of Lang Co Bay, Hai Van Pass, Bach Ma National Park and a fishing village in this area always attract many tourists by a wonderful harmonious combination between human and nature.
Lang Co is 60km from the centre of Hue City but about 40km from Phu Bai International Airport. If visitors drive to Lang Co from Da Nang City through Hai Van Tunnel, the longest road tunnel in Southeast Asia, the distance will be about 25km. However, the longer way, about 40km, is still the choice of many adventure lovers to drive on the pass to contemplate the beauty and majestic of Hai Van Pass and Lang Co Bay from above.