HOI AN JEEP TOUR TO MY LAI VILLAGE FOR 1 DAY

updated:
June 11, 2015
One comment
This jeep tour to My Lai is the journey to one of Vietnam's most significant and thought provoking war time memorial sites.
Visit one of Vietnam's most significant memorial sites. In a quiet suburban area of Quang Ngai province a village remains a memorial to the 504 civilians that lost their lives in 1968 during the My Lai massacre. The incident became public knowledge in 1969 and prompted widespread outrage around the world.
---
Destination: Hoi An My Lai Chu Lai (Quang Ngai)

Duration: 01 Day

Total approx: km.

Transport:

Price: Contact Us

Departure:Anytime upon your request
The Mỹ Lai Massacre was the Vietnam War mass killing of between 347 and 504 unarmed civilians in South Vietnam on March 16, 1968. It was committed by U.S. Army soldiers from the Company C of the 1st Battalion, 20th Infantry Regiment, 11th Brigade of the 23rd (Americal) Infantry Division. Victims included men, women, children, and infants. Some of the women were gang-raped and their bodies mutilated. Twenty-six soldiers were charged with criminal offenses, but only Lieutenant William Calley Jr., a platoon leader in C Company, was convicted. Found guilty of killing 22 villagers, he was originally given a life sentence, but served only three and a half years under house arrest.
The massacre, which was later called "the most shocking episode of the Vietnam War", took place in two hamlets of Son My village in Quảng Ngãi Province. These hamlets were marked on the U.S. Army topographic maps as My Lai and My Khe. The U.S. military codeword for the alleged Viet Cong stronghold in that area was Pinkville, and the carnage was initially referenced as the Pinkville Massacre. Later, when the U.S. Army started its investigation, the media changed it to the Massacre at Songmy. Currently, the event is referred to as the My Lai Massacre in America and called the Son My Massacre in Vietnam
* ITINERARY:
07.00 Your jeep and guide will meet you at your hotel. Your tour begins with the journey to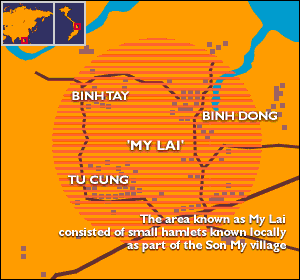 My Lai through stunning local villages in Quang Nam before we join Highway 1. We take a break en route for a local drip coffee in a small Vietnamese town.
09.30 Arrive at the site of the famous My Lai memorial site, where your village guide will take you to visit the house of evidence, a museum housing documents, photos and artifacts from the war. You will hear the stories of the horrific atrocities that once happened here and how the village has since recovered. In a town where almost every family has been met by loss, it is genuinely uplifting to see how they have overcome the past, with hope for a better future. We then take some time to visit the nearby village and farms. We then take a short drive to Chu Lai the site of the former US military base.
12.00 Lunch at a local restaurant overlooking the beautiful Rang beach.
13.30 We take the scenic route back to Hoi An. There are plenty of photo opportunities and we will stop to the see the sights as we go.
16.30 Arrive back at your hotel.
Your tour guide will accompany you in your jeep for your amazing tour. Our jeeps comfortably seat 3 people, though there is not a lot of room for 3 people plus our guide. To avoid a situation where one person in the group is in a jeep by themselves because your guide is taking the extra seat, your guide will travel in front of the group on a motorbike, stopping frequently to share information with you. This applies for groups of 3, 6 and 12 people and ensures everyone is able to travel with their friends in the jeeps and have a fantastic tour of our incredible countryside.
If you would prefer your guide to ride with you in the jeep, please let us know and we can arrange an additional jeep for a small increase in the price. At Rose Travel, our goal is to allow you to enjoy your tour in comfort and to your preferences.
Inclusive Of: Transportation, English speaking guide, Jeep, Lunch, Coffee, Meals as indicated, Mineral water & Wet tissues, Entrance fees.
Exclusive Of: Personal expenses, Travel insurance, Tips, VAT tax
HOI AN JEEP TOUR TO MY LAI VILLAGE FOR 1 DAY




Rating:

9.8

out of

10

based on

370

reviews.