HOI AN JEEP TOUR TO DA NANG VIA SON TRA PENINSULA

updated:
June 11, 2015
0 comments
A memorable jeep tour along the incredible coastal route of central Vietnam. This memorable jeep tour explores the incredible coastline of Danang and Hoi An. Tour the famous ocean road by Jeep, stopping at Marble Mountain, the largest Cham museum in the world and the stunning Son Tra peninsula and shop like a true local at the city market in the heart of Danang.
---
Destination: Hoi An by Jeep Marble Mountain Cham Museum Son Tra Peninsula Danang My Khe Beach Hoi An

Duration: 01 Day

Total approx: km.

Transport:

Price: Contact Us

Departure:Anytime upon your request
Highlights: Hoi An – by Jeep – Marble Mountain – Cham Museum – Son Tra Peninsula – Danang – My Khe Beach – Hoi An
Itinerary
08.00 Depart on your adventure in style with a leisurely drive along Hoi An – Da Nang beach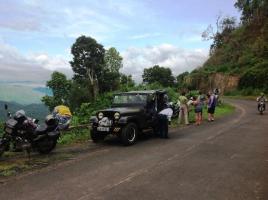 roads to the magnificent Son Tra Peninsula. The peninsula resembles a mushroom with the cap being Son Tra Mountain and the stalk the beautiful sandy beach below.
09.00 Make our way to the Linh Ung Pagoda which signifies the development of Vietnamese Buddhism in the 21st century. A very significant cultural site surrounded by stunning coastal views.
09.30 We follow the road as it snakes around the mountain. It resembles some of the great ocean roads of the Viet Nam. We stop and visit a 1,000 year old ancient Banyan Tree. Relax and soak up the oceanic atmosphere, with a backdrop of magnificent, jungle covered cliffs and deserted sandy beach coves.
10.00 Descend the mountain and enjoy a city tour around Danang. Experience the Thuan Phuoc and Han River Bridges before stopping to visit the bustling Han Market in the centre of the city. After visiting the market we enjoy a Vietnamese coffee at a typical Vietnamese coffee shop on the street front.
12.00 Enjoy a delicious local lunch of chicken rice at a local restaurant and refresh for the afternoon activities.
13.30 Make our way to the Cham Museum after visiting the very iconic Dragon and Tran Thi Ly Bridges. Founded in 1915 by the Ecole Françoise d'Extreme Orient, the Cham, the museum houses the largest collection of Cham sculpture and art-work in the world.
15.00 Make our way to Marble Mountain. Nestled near the beach, it is like a fairy land with dreamlike scenery: pagodas, caves and many grottoes to explore. Walk the stone stairs to the top of Thuy Son (Water Mountain) for a panoramic view of the nearby countryside.
16.00 Return to your hotel.
Your tour guide will accompany you in your jeep for your amazing tour. Our jeeps comfortably seat 3 people, though there is not a lot of room for 3 people plus our guide. To avoid a situation where one person in the group is in a jeep by themselves because your guide is taking the extra seat, your guide will travel in front of the group on a motorbike, stopping frequently to share information with you. This applies for groups of 3, 6 and 12 people and ensures everyone is able to travel with their friends in the jeeps and have a fantastic tour of our incredible countryside.
If you would prefer your guide to ride with you in the jeep, please let us know and we can arrange an additional jeep for a small increase in the price. Our goal is to allow you to enjoy your tour in comfort and to your preferences.
Inclusive Of: English speaking guide, Coffee, Jeep, Mineral water & Wet tissues, Entrance fees, Lunch.
Exclusive Of: Personal expenses, Travel insurance, Tips, VAT tax.
HOI AN JEEP TOUR TO DA NANG VIA SON TRA PENINSULA




Rating:

9.8

out of

10

based on

375

reviews.