HOI AN JEEP TOUR TO BHO HOONG VILLAGE OF CO TU PEOPLE

updated:
June 11, 2015
0 comments
This jeep tour would help you explore the stunning beauty and culture of ethnic minority region in the mountains.
---
Destination: HOI AN BHO HONG CO TU VILLAGE HOI AN

Duration: 01 Day

Total approx: km.

Transport:

Price: Contact Us

Departure:Anytime upon your requests
08.00 Your driver and guide will collect you from your hotel. After a briefing on the day's activities, we will set off on our adventure into the ethnic minority region.
09.30 After taking the countryside and laneways route out of Hoi An, we begin our ascent into the mountains.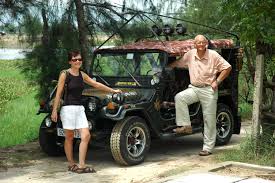 Here we stop for a local Vietnamese coffee and rest break.
10.00 We continue our journey up the mountain, deep in Co Tu country now, stopping at points of interest along the way.
11.00 Next stop Bho Hoong! Arriving at the village, we have the opportunity to freshen up before meeting a local resident who will take you on a guided walk of the village, explaining the local culture and customs as we go.
12.00 After our village walk, it is time to enjoy a local lunch prepared by the village in the community house. After lunch we enjoy a traditional music performance.
13.30 After our relaxing lunch and music performance, we again board our vehicle to begin our return trip to Hoi An.
14.30 Descending the mountain, we arrive at the home of a local Co Tu family. They welcome us into their home to enjoy a cup of tea or for the more adventurous and nip of local Co Tu wine. The home houses Co Tu woodcarvings and other items of cultural significance and we are free to enjoy them.
15.30 We return to our vehicle and continue our journey to Hoi An. Taking a different route, we enjoy the coast and stop at Marble Mountains to explore this significant Buddhist site, before continuing our trip to Hoi An.
17.00 Arrive at your hotel and tour concludes.
Tour starts at 7.30am and finishes approx. 5pm. Tour operates daily. Guaranteed tour departure with groups of 2 or more.
Your tour guide will accompany you in your jeep for your amazing tour. Our jeeps comfortably seat 3 people, though there is not a lot of room for 3 people plus our guide. To avoid a situation where one person in the group is in a jeep by themselves because your guide is taking the extra seat, your guide will travel in front of the group on a motorbike, stopping frequently to share information with you. This applies for groups of 3, 6 and 12 people and ensures everyone is able to travel with their friends in the jeeps and have a fantastic tour of our incredible countryside.
If you would prefer your guide to ride with you in the jeep, please let us know and we can arrange an additional jeep for a small increase in the price. Our goal is to allow you to enjoy your tour in comfort and to your preferences.
Inclusive Of: Transport and driver, English speaking guide, Experienced guide, Traditional local lunch, Drinking water and soft drinks, Marble Mountain entry fee and lift tickets.
Exclusive Of: Alcohol., Personal insurance, Personal expenses and tips.
HOI AN JEEP TOUR TO BHO HOONG VILLAGE OF CO TU PEOPLE




Rating:

9.8

out of

10

based on

368

reviews.