Insane. Risky. That's what you'll hear about touring Vietnam on the back of a motorbike. But how else will you carve out your own adventure, connect with the countryside and people plus really get to know this amazing yet frantic Communist country? Start with a bucket load of courage to get ready for culture shock and an exhilarating ride of your life. Let's follow us to read more guide to vietnam motorbike tours
One in four people in Vietnam have a registered motorbike (that includes scooters). So, you'll be in good company with 37 million such registered vehicles in this South-East Asian country of about 91 million. And there's more than 330,000 square kilometres of mainland to explore. If the guys from TV show Top Gear could do it, maybe you can too?
People and Language
Vietnamese is the country's official language, but French, Chinese, English and Khmer are also spoken. Religions include Buddhist, Confucian, Taoist, Roman Catholic, indigenous beliefs, Islamic and Protestant.
First Gear For Your Travel Plans
If you hail from Australia, hook into Vietnam travel updates from the government's Smart Traveller website. You can even set up a free account and register your travel plans to give your loved ones back home peace of mind.
Smart Traveller advises using common sense while travelling Vietnam; be on the alert for petty theft in tourist areas and markets, for example. Oh, and there's a risk of aggravated theft and sexual assault in major cities such as Hanoi, Ho Chi Minh City, Da Nang. It's worth a reminder, too, that Vietnam has severe penalties – including death – for drug offences. Don't add to the 30-plus Aussies serving long sentences for drug trafficking in Vietnam.
Another travel risk is, you guessed it, traffic accidents, which Smart Traveller says happens often in Vietnam. For some reason, accidents draw huge crowds, too. Driving standards, vehicle and road maintenance are "generally poor", says the site, but that's not going to stop you going there, is it?
When to Travel
You probably don't think of yourself as a fair-weather-only rider, but seriously, the rainy season from June to December will really dampen your motorcycling spirit. That's the time for flooding, flash flooding and typhoons. Considering some of the roads and infrastructure might be a bit worse for wear already, you wouldn't want to risk getting stuck.
Getting a Visa
Head for your nearest Embassy or Consulate of Vietnam to get your visa. If you opt for private online visa services and applications through travel agents for 'visa issued on arrival' approval letters, you risk your private info going public, says Smart Traveller. Oh and make sure your passport is still valid for another six months when you apply for your visa.
Licence to Ride
Leave your International Driving permit issued in Australia at home – it may not get you far in Vietnam as they only accept Vietnamese driver's licences for all vehicles including motorbikes of 50cc or more. To get the lowdown on licences and to secure your temporary Vietnamese driver's licence, get in touch with Australian Embassy or Consulate-General in Vietnam.
Where Not to Go and What Not to Do
The authorities get a bit touchy if you travel near military bases (don't take photos, too) and there's also travel restrictions in some parts of the Central Highlands and some border areas, says Smart Traveller. For good reason! There's unexploded landmines and ordnance in former battlefields. Key areas to avoid are central Vietnam and along the border with Laos.
Steer clear of gambling dens as gambling is illegal except in government-licensed casinos. Speaking of money, you'll get a better conversion rate if you exchange your currency into Vietnamese Dong before you leave home. Let your bank know, too, that you're travelling to Vietnam so they don't stop your card inadvertently.
And, if you're on prescription medication, don't expect to be able to stock up in Vietnam. Check out this site for info about carrying medications into that country, too.
Staking Out a Route
How long are you planning to tour Vietnam? You could do the whole country comfortably in a month, but if you're short of time, consider focusing on one particular section. Wherever you go, you'd want to zero in on the mine-free roads and paths – these are well marked.
Vietnam Motorbike Guides
and Maps have great info to get you dreaming about the ride. You may not get mobile phone reception on your travels, so beforehand cache the
Google maps
you'll need for the trip as a handy reference.
There's plenty of motorcycle touring companies vying for your business whether you're going solo or keen to hook into a guided tour. Most motorcycle touring companies offer standard private tours, premium tours and special event tours which are a great, fun way to take in the many sights and sounds of Vietnam.
When starting from one of the big cities, be prepared for traffic jams, a chaotic pace and overwhelming fumes. In Hanoi, day tours ranging from one to four days are a good idea to help you navigate the city as locals do. A great option for novices to take in just the city or explore the surrounds such as the Bac Ninh province or the world heritage Halong Bay area of lakes. You'll see pagodas, 300-year-old villages, waterfalls and experience winding mountain roads. A Saigon (aka Ho Chi Minh City) motorbike tour you can do in half a day takes in French colonial buildings, the wet market, alleyways and China Town, for example.
Your BYO List
Bring your own helmet, riding gloves, decent protective boots and summer-weight riding jacket (with padded elbows), eyewear, smart phone and all-weather backpack as a minimum. For starters, you have to wear a helmet when riding a motorcycle in Vietnam – that's the law – including when you're a passenger. If you can't be bothered BYO-ing one, we'd recommend once you're in Vietnam to visit a motorcycle dealership to find an Australian, US or European safety certified helmet, particularly a full-faced one. Lightweight pants that breathe and have padded heaps and knee areas are handy, too. You could go for a hard backpack (to soften your fall, just in case) that's a bit bigger than a standard daypack. If you're joining an organised tour, their support vehicle can carry the gear you won't need while on your bike.
Once you get a motorbike in Vietnam, invest in a chain and padlock, some octopus straps/bungee cords to secure your backpack. Think about getting emergency lighting like a powerful bicycle light – you never know if you'll be caught out and your lights fail.
Choose Your Weapon … OK, We Mean Bike
Decide if buying or hiring a motorbike suits you. The most popular bikes are the Honda Win and Russian Minsk – both old models. You'll see a lot of 100cc or 110cc Honda-badged bikes but they may be Chinese copies and could cost just $US250. Make a beeline for the Vietnamese-made Sufat Wins, they're locally made using Honda designs and more reliable. You could pick up one for about $US450.
For more details, check out Chris Brinlee Jr's Gizmodo Australia's post. He also suggests visiting the backpacking areas of the main cities for 'bike for sale' fliers or looking on Criagslist. We'd recommend going for a 250cc which will give you decent grunt yet be nimble enough to negotiate through water over roads and along unpaved roads.
As most riders start their trip in Ho Chi Minh City and try to sell their bike in Hanoi, consider going the opposite way so you'll have a buyer's market to get your set of wheels in Hanoi and sell them in Ho Chi Minh City. Keep in mind, Hanoi's roads have five million motorcycles, which could be why the government is looking to ban bikes there from 2025.
On the Road
You'll be able to fill up when you need to and get about 40km to each litre of fuel. If your bike needs tweaking or more serious repairs, hunt down a 'Xe May' sign or the Honda Motorcycle logo. Keep your machine schmick by oiling the chain every 300 km, checking the tyre pressure then, too and changing the oil every 1000 km.
Supposedly, vehicles drive on the right sight of the road but their concept of a 'lane' might be different to yours. Give trucks, army jeeps and buses right of way as they mightn't have brakes. Top speeds you'll be able to do are 100 kmph along some stretches of highway, but arrive with the mindset that travelling in Vietnam can be really slow.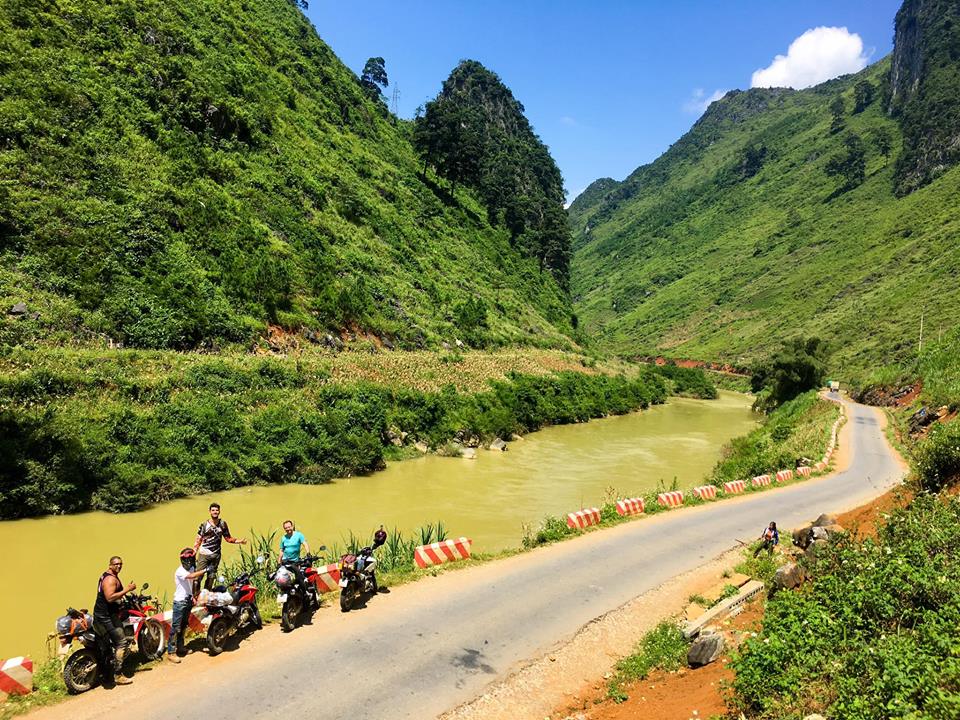 A good yardstick, particularly when you're in urban areas, is to assume you'll be going about 30 kmph. You'll think it's optional for drivers to obey traffic lights – that's the way Vietnamese drivers operate. Oh, and forget about travelling at night, too risky as many vehicles have no lights or drive with their high beams on all the time. You'll also miss seeing potholes in the roads before you crash into them.
When travelling, ask locals about the condition of the road ahead. On the open road, there's plenty of food options along the way (but stock up on bottled water) and reasonably priced accommodation where you can keep your bike and belongings safe.
If there's an emergency, call 113 for police, 114 for fire and 115 for an ambulance, but have a translator handy if you're reporting a crime. Otherwise, local police might use their discretionary power not to lodge a crime report from a foreigner.
Dream On
Get the biker vibe by checking out YouTube videos such as William Sheers' brilliant piece, or this nudge to females to do the solo tour on just $40 or the best drone vids of motorbiking Vietnam. We'll just leave it there for you to ruminate over eh?