CUC PHUONG – NINH BINH

October 21, 2014
By Ha Nguyen
0 comments
Located 120 kilometres south of Hanoi, Cuc Phuong national park was established in 1962 and is the oldest national park in Vietnam. Consisting of more than 200 square kilometres of tropical forest and many grottoes, the reserve is rich in wildlife and natural beauty and also possesses historical significance, as prehistoric tools and ancient tombs have been discovered in some of the caves.
The best way to explore the park is by a combination of motorbike or bicycle and foot. The park centre lies 20 kilometres from HQ and reception and is along a paved road, meaning it's not much fun to walk. It's not a great deal of fun to cycle either — it's a hilly road with plenty of 10% inclines to get those legs working – but anyone with a relative degree of fitness will be fine. Both motorbikes and bicycles are available to rent at reception.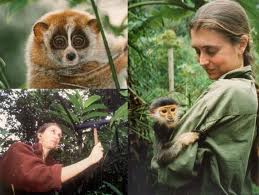 You'll see some sights en route to the centre: Mac Lake is less than two kilometres from reception and so reachable on foot. The lake itself is pretty enough and there is accommodation and a restaurant along its banks. Around five kilometres further on is the cave of prehistoric man, now apparently a refuge for bats. It's a short but steep walk up to the cave and you will need a torch inside; they are available to rent from the hut next to the car park for 10,000 VND.
The park centre itself houses a restaurant, a cafe, a shop and more accommodation, and is the start point for a six kilometre walk to the thousand year old tree. The walk is a great way to stretch your legs if you've travelled by motorbike, and for those interested in botany there's plenty to study on the way. You can also take a short detour to visit the Palace Cave. The tree itself is impressive but not worth more than a few minutes, although there's space to sit and rest ready for the return journey.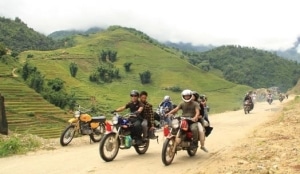 One of the best way to visit Cuc Phuong is to go by motorbike. The route via Highway 1 (directly south) is not recommended as it's a particularly busy and unpleasant road, but it is the quickest way. For those happy to detour a bit for better scenery and quieter streets, head out of town towards Ba Vi and then take the Ho Chi Minh Highway. The scenery along the way is quite something — some might say it's better than in the park itself.